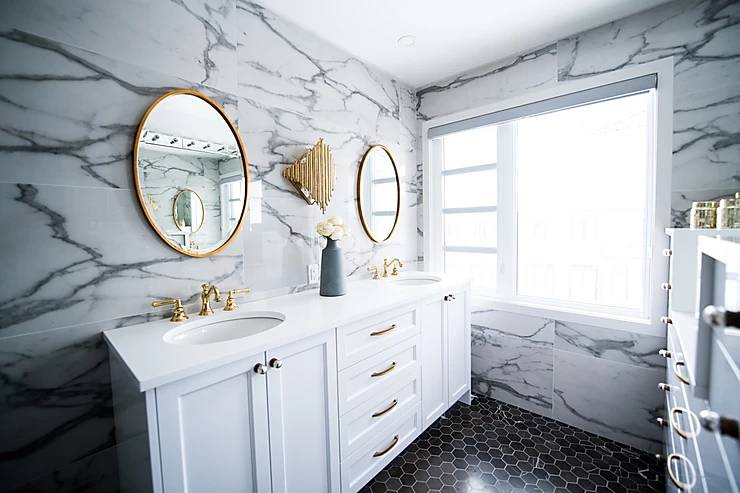 When showing rental property to potential tenants, there are generally two areas in which they are most interested: the kitchen and the bathrooms. Peeling paint, old fixtures, or aging cabinets may turn off tenants that could prove to be a long-term source of tenancy and income. Fortunately, there are a few simple things you can do to upgrade your rental bathrooms and make them more appealing to prospective renters.
Add a Fresh Coat of Paint
In bathrooms, paint is especially vulnerable to peeling. Constant humidity from showers can lead to premature aging of walls and other surfaces. A fresh coat of paint can help immediately improve the appeal of your bathroom. To appeal to the most tenants, consider using an on-trend neutral, like grey or beige.
Add a New Vanity
Does the bathroom vanity look like it has been there since the 80s or even longer? Updated, modern sink cabinets and vanities are relatively cost-effective and can quickly add to the appeal of your bathroom. Dark vanities naturally hide tenant wear and tear, so consider choosing a richer color like black, brown, or dark grey to protect your investment.
Add a Low Flush Toilet
Low flush toilets are sleek and add to your bathroom appeal, but they also serve another important purpose: they can save you money on your water bills. A single low flush toilet can save hundreds on your annual water bills, and, if you have several units in a single building, your savings can really add up.
Re-Glaze the Bathtub
In older homes, cast iron bathtubs can start to look dingy. A quick deglazing can revive their look without the expense of installing a new tub. For a gleaming new bathtub, choose a white shade, which will make it seem like a new installation without the cost you would incur from a new unit.
Why Should I Use a Property Manager?
Undertaking new renovation tasks and maintaining your properties can be challenging, especially if you have another job and home to worry about. Property management services can take the guesswork out of owning income property. Home 365's sensory system, which is installed throughout your property, can detect maintenance issues before they become major problems. With the help of Home 365, you can protect your investment and keep rental units appealing to prospective tenants for years to come. For more information about our property management services and the Home 365 sensory preventive system, please contact us.